Including all the requirements for the Divo model, takes up to five hours, or even more
As you might think, configuring a car that costs millions of euros takes a long time. Buying a very expensive car does not only require filling a few boxes, for only a few different things, but concrete details, from the shades of color to the shape of the engine winding.
Officials from Bugatti have announced that they will spend up to five hours, or even more, with a client, in order to order the Divo model in the most detailed way, in order to meet all the possible requirements.
Even before the ordered hyper-car is completed, the customer meets several more times even with the engineers of this French manufacturer.
"The configuration includes personal ideas of customers, family coats of arms, national flags, their logos or concrete colors," said Ane Beynat, who heads the Bugatti sales department.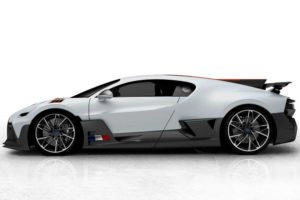 In this form, customers can choose even the rarest things, such as the combination of the color of the seat liqueur, the color of the shoe, or the favorite bag. Logos on wheels, personalized grill, colored fans, or crystals on the ceiling. One client demanded that the baby's feet to be drawn on the inside of the car.
While most of those who buy Bugatti Divo, are accustomed to this procedure because they also own a Chiron.