Blender has been trained using 1.5 billion examples of conversations between peoples
Facebook has launched a new chatbot that it claims is capable of demonstrating sensitivity, knowledge and personality. The social media giant said 49% of people preferred to chat with a chabot instead of a man.
Reddit posts have been used for his training, but experts says artificial intelligence training using Reddit's platform has its problems. During long conversations Blender sometimes responds with insulting language. Researchers hope that future models that will be compiled will help address these problems.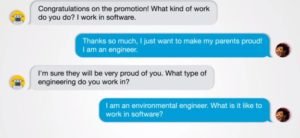 Blender is a big step forward but has two fundamental problems. The first is his ability to follow long conversations and the second is the data used to train the model.
Facebook compared the performance of the Blender chabot to that of Google Meena. The social network has shown people two examples of conversations, one conducted by Blender and one by Meena. Facebook said 67% of people said Blender is more like a man than Meena.
Creating an intelligent agent who can talk like a human being is one of the greatest challenges of artificial intelligence for the time we are living.